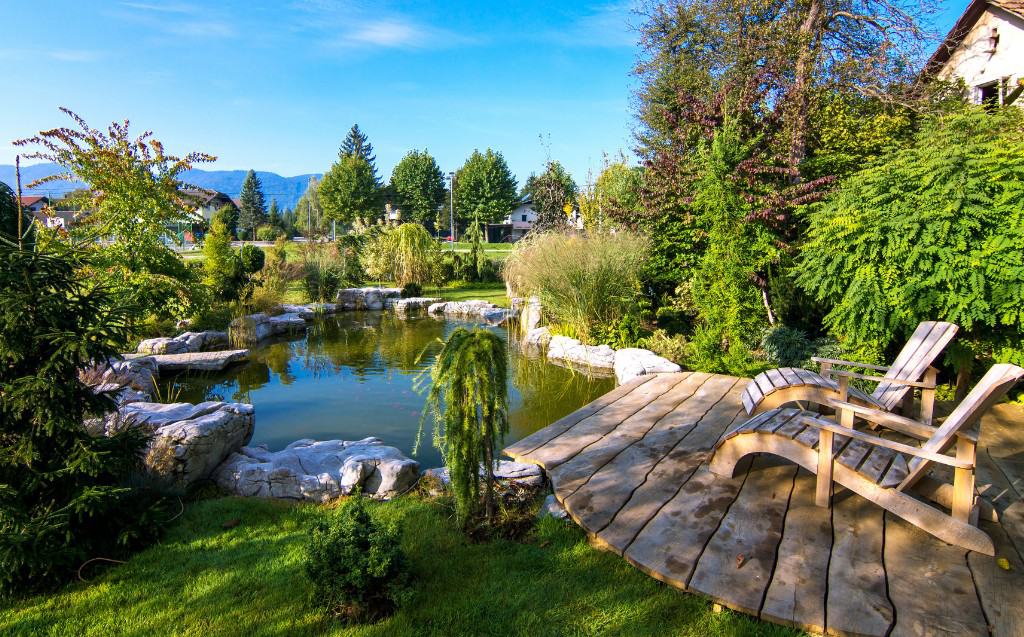 A beautifully designed garden pond depends not only on aquatic plants and shoreline vegetation but also on various accessories. Your choices will be influenced by your personal style and the type of your pond. Naturally inspired accessories are always a good choice. When selecting accessories, remember that "less is more" to prevent your garden pond from appearing overcrowded.
Herb Spiral by the Pond
An herb spiral is a real eye-catcher and provides you with fresh garden herbs. The size and herb selection depend on the available space. If you have enough space and a relatively small pond, you can build the herb spiral around the pond, integrating the pond into the spiral. When constructing the herb spiral, pay attention to the minimum diameter, which should be about three meters for approximately twelve plants. In an herb spiral, you cultivate herbs with varying moisture and soil requirements. Therefore, it's essential to use different types of soil rather than a uniform blend. Create four different moisture zones for herbs with diverse needs within the spiral. For the upper, drier area, mix garden soil with sand. Gradually reduce the sand content moving downwards. The soil is richest in nutrients at the bottom, where it should be mixed with compost. Herbs suitable for growing in the herb spiral include chives, rosemary, sage, basil, parsley, thyme, lemon balm, savory, and lavender. In addition to perennial herbs, you can also use annual herbs that you'll need to sow or plant anew each year.
Pond Lighting
Pond lighting contributes to safety around the garden pond and serves as a beautiful accessory. You can integrate lighting both in the water and around the pond. Lighting options come in various styles, from nostalgic lanterns and simple pillar-shaped lamps to flat, modern spotlights. Your choice should also depend on the size of your pond. Taller lanterns are suitable for larger ponds, while lower lamps complement smaller ponds. LED lamps are durable and suitable for outdoor use, offering long-lasting performance and energy savings. You can choose from various light colors. Solar-powered lighting is an excellent choice as it reduces your electricity costs.
Pergola or Pavilion with Climbing Plants
A beautiful addition to your garden pond is a pergola or pavilion covered with climbing plants such as clematis, climbing roses, wisteria, trumpet vine, and sweet pea. However, be mindful of the growth patterns of these plants. For some climbers like wisteria, it's advisable to use root barriers to prevent them from spreading throughout your garden and potentially damaging the pond liner. You can purchase a pergola or pavilion made of metal or wood as a ready-made kit at a home improvement store. With some DIY skills, you can also build a wooden structure yourself. A pavilion is ideal for creating a small seating area by the garden pond.
Wooden Deck for the Garden Pond
A wooden deck is suitable not only for large swimming ponds but also for smaller garden ponds. You can build it with or without a railing. The deck should extend into the water for a natural look. A wooden deck serves not only as a decorative accessory but can also be practical. In the summer, you can use it to create shade over your pond by hanging a sunshade. You can decorate the wooden deck with flowerpots or various amphorae. Adding a fishing rod with a line to the deck can also be a lovely touch. If the deck is wide enough, you can install a railing and place lounge chairs or regular chairs for seating. You can even integrate lighting into the wooden deck.
Wooden Bridge Over the Garden Pond
Similar to a wooden deck, you can build a wooden bridge over the garden pond. These bridges are suitable for long, narrow ponds and can be constructed over a narrow section. The bridge's width can vary depending on your pond's size. It's advisable to have at least one side of the bridge equipped with a railing. A wooden or metal railing is a beautiful addition, and you can even integrate lighting into it.
Floating Stones in Various Styles
Floating stones are not actual stones; they are made of buoyant materials. You can find them in various styles, including colorful ceramics, glass, or plastic. You can even create your own floating stones from ceramic in different shapes, have them fired, and paint them with waterproof paint. Some glass floating stones come with integrated LED lighting, making them a beautiful lighting option for your garden pond.
Fountains or Water Features
A fountain keeps the water in motion and contributes to better oxygenation. If you have fish in your garden pond, check if they prefer calm water. If they do, consider positioning the fountain to the side. Fountains and water features come in various designs. If you're preparing your pond for winter, make sure to disassemble water features. These features can also help deter herons and other unwanted guests from your garden pond. You can find water features in the form of water spouts, such as birds and other animals, which you can place at the pond's edge.
Wind Chimes in Beautiful Designs
The variety of wind chimes is nearly endless. They come in wood, plastic, or metal, sometimes combined with textile materials. You can place wind chimes along the pond's edge or suspend them over the water using suitable brackets. Wind chimes come in the shapes of flowers, animals, spheres, or imaginative forms. When the wind blows and the sunlight hits them, they often shimmer in various colors. Due to their movements and clinking sounds, they can also help keep unwanted guests, such as herons, away from the pond. Remember to bring wind chimes indoors when preparing your pond for winter.
Sunshades and Umbrellas
Sunshades or umbrellas are almost essential for hot summer days by the pond. They come in beautiful colors and interesting shapes, making them attractive accessories. For larger ponds, consider placing multiple sunshades or umbrellas. You can even find large, adjustable sunshades suitable for more extensive ponds.
Sculptures for the Pond Shore
Sculptures and statues are available in various shapes and sizes, often made of terracotta or clay. You can choose from various styles, such as figures reminiscent of ancient Rome or Greece, Buddha figures for koi ponds, or animal-shaped sculptures like birds. Some of these sculptures are offered with solar-powered motion sensors.
Beautiful Plant Containers for the Garden Pond
Plant containers come in various shapes and sizes, often made of terracotta or glazed ceramics. The choice of containers depends on your pond's design. You can plant various flowers in these containers, such as petunias, geraniums, oleanders, or small citrus trees. These plant containers are not only decorative but also practical because you can bring them indoors during the cold months if you have delicate plants.
Natural Stones Around the Garden Pond
Natural stones are both cost-effective and decorative. You can place these stones among the shoreline plants. You can either leave them in their natural state or paint them. Be cautious not to overload the area with excessive details.
Conclusion:
There are numerous possibilities for beautiful accessories for your garden pond. Some accessories not only add to the beauty but also serve practical purposes, such as providing shade or keeping unwanted visitors away from your pond. You can combine various accessories creatively, but remember to maintain a balanced appearance for your pond, ensuring it doesn't become overly cluttered. Use sculptures, wind chimes, and other decorative items sparingly for the best effect