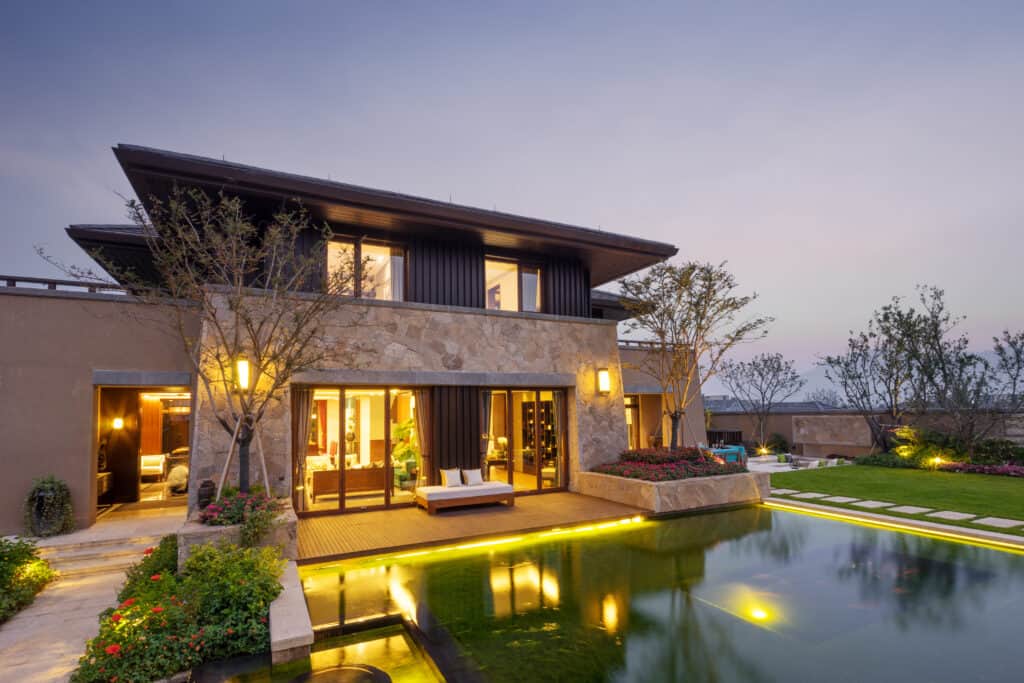 If you want to stylishly stage your garden pond and conjure up an atmospheric ambiance in the evening, you should illuminate it. There are several ways to do this. On balmy summer evenings, the garden pond conveys a feeling of relaxation. When the sun goes down, this magic is over. With the proper lighting for your pond, you can still enjoy the atmosphere at night.
What you should consider when lighting your garden pond
Lighting for your garden pond doesn't have to be a power hog. There are many beautiful illuminations, for example, with LED. They consume very little electricity and are robust and durable. You can enjoy it for a long time and save electricity with various solar-powered lamps. Throughout the day, these lamps charge with sunlight. When it gets dark, they emit light. You do not have to expect any further costs from the moment of purchase, as you do not need electricity for the solar lamps.
When buying lighting, make sure that it is specifically approved for water. This is true even if you only want to illuminate the edge of the pond. Quickly splashing water or a high water level after a long period of rain can damage the lighting and even lead to serious incidents.
Options for Lighting
If you would like to create a romantic flair for your garden pond, you have several options for doing so:
Lighting at the edge of the pond
Highlights in the garden pond
Accents underwater
Floating lights.
Lighting at the pond edge
In any case, you should illuminate the edge of the pond. This also makes the highlights in and around the water stand out better. These lamps additionally make good pathway lighting. Solar lamps are excellent for lighting the edge of the pond. Mostly, these solar lights are equipped with LED lamps that are perfect for outdoor use.
For lighting the edge of the pond, you can also use lamps powered by electricity. When planning the pond, you should consider that pipes for the power cables must be laid in the ground. If the pond is already in place, such work is quite tricky.
You can also illuminate your pond edge with torches. Such torches create a beautiful ambiance and are available in many varieties.
Highlights in the Garden Pond
Once you have nicely decorated your garden pond with plants and various beautiful elements, you should set highlights with the proper lighting. This way, you will emphasize the most beautiful objects in your pond. You can use ground lights or spotlights for this purpose. This lighting with LED operation is perfect for underwater use and specially designed. You can choose LED lighting with warm white and a cold white glow. If you like it calm and cozy, opt for warm white light.
On the other hand, cold white light has an objective and stimulating effect. The cool white light offers a stark contrast to the surroundings. You can also combine floor lights and spotlights, depending on the objects you want to illuminate.
The floor lights with LED lamps are suitable for illuminating larger objects in a targeted manner. They are available with warm white and cool white light.
Spotlights are suitable for the pond surface and the shoreline area. They often feature solar power and are ideal for highlighting planters or stones.
Accents Underwater
You can create beautiful accents underwater in your garden pond. For the design of the interior of your pond, you can get modern lighting systems. In specialized stores, but also online stores, you can choose between
spots for the inner edge of the pond
Floor spotlights
fountains
Fountains can be romantic and are available in many varieties. They are perfect for setting the scene for larger ponds. Depending on the size and nature of your pond, you can also combine the different lighting. Just keep in mind that less can be more.
For the most part, these lighting systems use very little power because they are equipped with LED lights. They are designed to operate underwater.
Floating Lights
Charming can be floating lights in your pond. These lights create a feel-good atmosphere and a unique flair in your pond. With floating candles, you make some points of light on the water. You can get such floating candles in many colors and shapes. They often have a burning time of about five hours. The floating candles are suitable for a romantic summer evening. It could be pretty expensive if you want to illuminate your pond with floating candles more often. In the long run, a lovely and cheaper alternative are floating balls.
You can add visual highlights to your garden pond with floating balls with LED lights and solar panels. Often these floating balls are equipped with rechargeable batteries, which you should charge approximately every 10 hours. Just as is often the case with LED lighting, you can usually set different colors for the floating balls. In addition to classic yellow or white light, you can also change colors and immerse the pond in an exciting play of colors. You can get floating balls in different sizes. Quickly, floating balls with colored light could look kitschy. To avoid this, use this type of lighting sparingly.
The Right Dosage of Light
When it comes to lighting your garden pond, it's all about the proper dosage of light. There are numerous options for lighting, and you can combine them well. You should match the number and size of lighting elements to the size of your pond. It would help if you only lit certain areas of your pond. Otherwise, the pond will quickly look cluttered. Too much light can annoy the pond inhabitants because they also have their rhythm between day and night. The contrast between light and dark makes your pond look alive.
Some fish species only become active in the dark. They don't like it when there is too much light in your pond. Therefore, when planning the lighting, you should also think about the needs of your fish. You should provide them with a place to retreat. You should also not leave your pond lighting on all night. Your fish, as well as your electric bill, will thank you if it is not solar-powered lighting. You should also make sure that the light is not blinding.
Water Lighting With Electricity – Safety Matters
Various water lighting, such as ground lighting or spotlights, do not work without electricity. Water and electricity can form a dangerous liaison. You can avoid this by buying pond lights that operate on low voltage. You should have the lighting installed by a professional. Mistakes in lighting choice or installation can result in more than just dead fish. People can also be put in danger.
When it comes to underwater lights, you should make sure that they are suitable for continuous underwater use. You should not buy cheap lighting, because it can be dangerous. It pays to invest in quality. Lamps that you use for the pond's edge should at least be resistant to temporary flooding. You can tell if the lighting is suitable for underwater use by looking at the IP number. Underwater lights must always have an eight on end. With a seven on the back, at least it won't hurt if the lights get flooded now and then.
Conclusion
You can create a beautiful ambiance for your garden pond with pond lighting. You can use lighting for the edge of the pond, set accents with underwater lighting, or use ground lights or spotlights as highlights. You can choose floating candles or floating spheres as floating lighting. It would be best if you were careful not to incorporate too many lighting elements into the pond, as this could look tacky and disturb the fish. You should pay attention to the IP number for underwater lighting with electricity, which must always have an eight at the end.